Cruising is becoming increasingly popular with families, particularly ones with young or teenage children. Today's big cruise ships offer an amazing array of kid-friendly activities, entertainment and shore tours – and if you're looking for a budget-friendly holiday that doesn't involve taking a long flight, there's more choice of cruises in our region than ever before.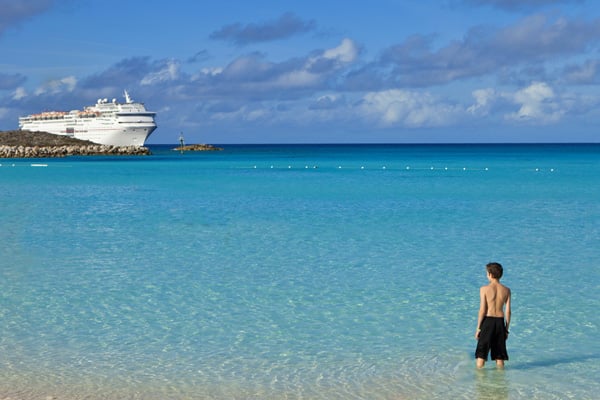 Some of the most family-friendly ships sail from Australian ports year-round – P&O Cruises' Pacific Dawn, Pacific Jewel, Pacific Pearl, Pacific Aria and Pacific Eden; and Carnival Cruise Line's Carnival Legend and Carnival Spirit.
Other lines send ships to Australasia for the summer season, which runs from October to April – these include Celebrity Cruises, Holland America Line (HAL), Princess Cruises and Royal Caribbean. While Celebrity, HAL and Princess ships are well-suited to couples of 50-plus and multi-generational cruisers and offer kids' clubs and activities, Royal Caribbean is a standout in terms of its ships' onboard attractions and dedicated areas for active children and teens.
If you've never cruised with kids before, it's a good idea to check out some shorter itineraries. Ships get booked up quickly during school holidays so you need to do some advance planning – also, when you book early you'll have more choice of accommodation.
The most popular cruises are to the Pacific Islands and all the cruise lines mentioned above sail there. Itineraries range from seven to 14 nights; some include visits to Fiji and New Zealand and all go to Vanuatu and New Caledonia. You'll find several cruises to New Zealand and lots that sail around the Australian coast – P&O Cruises home-ports its ships in Adelaide, Brisbane, Cairns, Fremantle, Melbourne and Sydney.
What will you find aboard the ships sailing from Australia year-round? Carnival Legend and Carnival Spirit offer three age-specific kids' clubs: the Penguin Colony (two to five), Stingrays (six to eight), Sharks (nine to 11), Circle "C" (12 to 14) and Club O2 (15 to 17). These are free of charge and each club has its own special features – from miniature play igloos for the youngest cruisers to interactive gaming stations for the older kids.
Outdoor fun includes the Green Thunder waterslide, billed as the steepest at sea; WaterWorks aqua park, which has the Twister ride and Splash Zone for younger kids; three pools; mini-golf and a basketball court. In the evenings you can watch movies on the giant outdoor screen by the pool – complete with popcorn and blankets.
Real-life Dr Seuss characters pop up all over the ships – kids can meet Cats in Hats, Fish Red and Blue and Things One and Two, in parades, hosting interactive story time and at special breakfasts when Green Eggs and Ham are on the menu. Hasbro The Game Show is another drawcard for family members of all ages.
Eating onboard Carnival Spirit and Legend is a breeze – kids' menus are served in the Camp Ocean clubs and eateries include Guy's Burger Joint, Freshie's Corner, which serves fish and chips among more sophisticated seafood dishes, and the Lido's Pizza Pirate pizza station and Swirls ice cream bar. Save the Cherry On Top lolly shop for special occasions (if you can).
P&O Cruises' five ships range in size from 1500 passengers (Pacific Aria and Pacific Eden) to the 2000-passenger Pacific Dawn. All ships feature the P&OEdge Adventure Park, which boasts 19 exciting activities on the top deck. Activities include a flying fox, funnel climb, Segway obstacle course and bungee trampolining; on Pacific Dawn you can 'walk the plank' and climb to the Crows Nest Viewpoint. There are charges for each activity, so if your family is planning to use them a lot, it's worth buying a P&O Adventure Pass that lasts for the whole cruise.
The ships host four age-specific kids' clubs: Turtle Cove (two to six), Shark Shack (seven to 10), HQ (11 to 14) and HQ+ (15 to 17) as well as talent shows, karaoke, Teen Jam music sessions and movie-making workshops. Deck games such as golf-putting, quoits, table tennis and good old-fashioned shuffleboard are available and each ship has two pools.
Kids' menus are served in the Waterfront Restaurant every day and Plantation offers a kids-only dinner each evening, which includes special appearances from TC and Skipper, the mascots from Turtle Cove and Shark Shack.
Royal Caribbean's ships are renowned for their rock-climbing walls, ice rinks, FlowRider surf simulators and even more outlandish activities on its newest, biggest ships. Of the four regular visitors Down Under (Explorer, Voyager, Radiance and Legend of the Seas), Explorer and Voyager are both fitted with FlowRiders and ice-skating rinks.
Ovation of the Seas, which will be the newest ship ever to cruise in Australia when it arrives for a short season in December 2016, takes onboard entertainment to a whole new level. Ovation is the third Quantum-class ship and its famous features include a skydiving simulator, the NorthStar viewing capsule rising 90 metres above sea level, bumper cars, circus school and rollerskating – and two FlowRiders.
Kids' clubs on Royal Caribbean ships start with Aquanauts (three to five years) and move up the age range to Explorers (six to eight), Voyagers (nine to 11), Navigators (12 to 14) and Guests (14 to 17). Entertainment for 12 to 14-year-olds include rock-climbing competitions, dodgeball, talent shows, open-mic nights and Scratch DJ Academy. Older teens have organised basketball comps plus their own theme nights, dinners and karaoke competitions. Younger children will also enjoy meeting DreamWorks characters from Shrek, Madagascar and Kung Fu Panda on board Voyager and Ovation.
Kids' menus are available and each ship has a wide range of restaurants and cafes where you'll find something to suit every member of the family, however fussy they are. Windjammer Café is the buffet option and specialty restaurants such as Johnny Rockets will appeal to the teens.
When you're planning a family cruise, make sure you spend some time researching the shore excursions on offer to get the best value from your holiday dollar. It can be worth doing your own thing. If the organised tour is to an island beach, for example, and you have small children sometimes you'll have more fun staying on the ship on port days because there will be fewer people in the pools, aqua parks and adventure playgrounds.